mentalist, magician, entertainer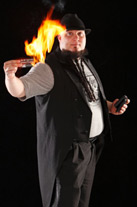 Nicholas Tweedy is an entertainer like no other, blending mentalism and magic together with far-eastern mysticism to create a magical experience that draws his audiences in and leaves them wanting more.
Whether you're considering booking a corporate event, private cocktail party, trade show or nightclub performance, Nick can customize his unique art to fit your specific needs and vision. If you're looking for an edge over your competitors at your next trade show, leave it to Nick and he'll keep your sales staff knee-deep in crowds of amazed, potential clients.
When it comes to comedy and nightclub performances Nick is and old pro that has performed in venues stretching from California to Romania and is sure to keep your audiences on the edge of their seats.
If you are interested in booking an event or if you have questions, feel free to contact Nick directly.

Email: [email protected]