mentalist, magician, entertainer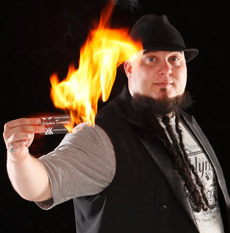 With his incredible and rare talents Nicholas Tweedy has stunned audiences all around the world, from the dark old European forests of Transylvania to the bright lights of Las Vegas Boulevard. As an entertainer Nicholas is one of the last remaining mentalists performing today. In a world where most people have forgotten what mentalism is Nicholas is redefining the art with every performance.
As credit cards fly through the air, business cards burst into flames, solid objects twist and warp, Nick reads people's thoughts, makes impossible yet correct predictions, reality as you know it is not just suspended, but bent completely out of shape. With style, charm and humour Nicholas Tweedy captivates his audience, holding them completely within his spell. He has the same effect on everyone from the roughest, tattooed working man through to CEOs of multinational companies, they gasp in awe and ask "How did he do that?" and "How did he know that?"
Born right outside Washington DC, Nicholas moved with his family to Japan at the tender age of 5. It was there that he met Hiroshi Demura, who would become his mentor for a 12 year apprenticeship in the performing art of mentalism. Since completing his studies Nicholas has gone on to create his own unique style of performing combining traditional magic with cutting edge mentalism.
Early in his career Nicholas teamed up with other illusionists and was one of the founding members of the very controversial The Nomadic Magicians Group, performing in countless venues across the US including the world famous Improv Comedy Club and Musicom Media's music festivals, where he shared the stage with internationally renowned rockers Pantera, Drowning Pool and Static X. In these early shows Nicholas was very literally ripping people in half with chainsaws and beheading random audience members with his massive guillotine.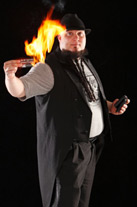 In 2005 Nicholas left The Nomadic Magicians to strike out on his own and to go back to his roots in mentalism. Nicholas' first international destination was Transylvania, Romania where he very literally had the entire country talking about his orgasm routine. Videos from Romanian news broadcasts have even found their way to You Tube.
Today Nicholas calls Adelaide, Australia his home, but continues to travel both within and without Australia, splitting his time performing both publicly in cabaret style performances and private corporate shows. Nicholas' international corporate clients include some of the largest names in their fields.
Perhaps it's the Japanese influence, but Nicholas doesn't have the brashness often expected of performers from the US, in fact he's rather modest about his unusual abilities and always remembers to give credit to his mentor. It's his peculiar looks, with the extra long braided goatie that first attracts attention, and perhaps the way the occasional object around him forgets to obey the laws of gravity. It's only as he notices that he's drawn some curiosity that the true consummate performer in him comes out and then things take a turn toward the completely bizarre.