mentalist, magician, entertainer
Adelaide Theatre Guide

Nicholas Tweedy is a mentalist, and a damn good one at that. He's also a gifted sleight-of-hand magician, which is no mean feat either.
There's not a lot I'd want to give away about exactly what he does in the show - that's part of the fun - but rest assured that it's a succession of tricks that will astound and amaze. Tweedy's also got a great manner; he's very friendly and self-effacting, despite the fact that while he's smiling and shaking your hand, he's using his skills to get inside your head. Definitely a great exponent of the art. It's a short show, but it's certainly long enough to make you wonder just how the heck he does it. 4.5 stars (out of 5)
Heckler

I love being fooled, having the wool pulled over my eyes and made to believe that the impossible...isn't. Which is why I'm a sucker for magic or mentalist shows. Nicholas Tweedy tells you he isn't a magician, he's a mentalist and explains that if a mentalist tried to saw a woman in half she'd be dead. Purists may shudder but I don't care about the differences. I just care that I thoroughly enjoyed myself from the very beginning where an audience member's bank card was levitated and spun about through the mind reading to the self-sealing and re-filling beer can, all the time asking myself 'how does he DO that?'
I would like to know why every magician or mentalist picks me to be the bunny who imagines a card and 'lo and behold' there it is, upside down in the pack. Why me? Do I just have the sort of face that says 'gullible'? Actually I don't care. It's all great fun and a really, truly awesome display of skill, or maybe it really is magic? Bravo Mr Tweedy! Get yourself down to the Cavern Club before he flies back to the States, you will be, as the show title says, amazed.
Kryztoff Raw: Reviewing Adelaide

Nicholas Tweedy is back for the Adelaide Fringe presenting some of his amazing acts using his clever skills some of which he says took him over 12 years to learn. Combining slight of hands magic with clever, outright remarkable mentalism , and a dash of humour he thoroughly astonishes the audience into amazement again and again. A very engaging show, consisting of levitating cards, igniting cards, refilling cans, and lots of unbelievable mind reading including cards, names and drawings, performed by an understated, very clever, entertainer.
The Advertiser by Hannah Silverman


Prepare to be amazed with a show that doesn't need sparkles to dazzle. Laid-back mentalist Nicholas Tweedy combines illusion, magic and a little humour to perform a show so smooth the audience could not afford to avert its eyes.
If it had, it could have missed the moment a humble credit card was levitated or the jaw dropping finale to a phonebook prediction with a twist. There are no cliched tuxedos or hi-tech special effects, but this only adds to Tweedy's charm and the believablity of his routine. Sceptics and believers alike will be impressed by the American-born Tweedy and will walk away wondering not only how he did it, but if in fact they saw what they thought they saw. The only resolved question will be the knowledge that Tweedy was well worth the ticket.
5AA Radio by George Inglis

Nicholas Tweedy is the antithesis of the magician cliche. There are no star- and moon-studded coats and top hats, no rabbits, and no bifurcating of scantily-clad women. Dressed simply in a black jacket with his daggy beard platted into three straggly tendrils, Tweedy keeps his show's emphasis on audience participation, delivering a speakeasy feel to the underground Cavern venue. A low-key, guy-next-door type, Tweedy holds no airs as he talks to the audience as old friends, casually explaining the subtle differences between magic and mentalism. He practices the latter, an art form that uses sleight of hand, eagle-eyed perception, an intricate understanding of human behaviour and the classic magician's tool of distraction to pull off some truly amazing tricks. This is the magic show for magic sceptics who secretly still get a buzz from being stumped, stunned and stimulated.
Adelaide Matters - March 2010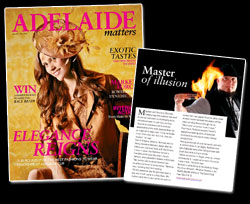 Magician and illusionist Nicholas Tweedy says the skeptical nature of Australian audiences is challenging but it ultimately makes his job more exciting. "Australian audiences are much more appreciative of my work, because they are so skeptical to begin with. It may be harder to win them over, but once I do, they are amazed," he says.
Born in Virginia, America, Nicholas and his family moved to Okinawa, Japan after his father was stationed there with the military. It was in Japan that Nicholas formed a friendship with local illusionist, Hiroshi Demura, who sparked his interest in the trade. "My mother used to teach Hiroshi's two daughters at home for extra money," Nicholas says, recalling their first meeting. "On this particular day the girls had taken a test and Hiroshi came to collect them. My mother asked him to wait while she went to collect their test papers from the table, when instead Hiroshi levitated the papers off the table and they floated through the air. My mother screamed, I was in awe." From there Nicholas became Hiroshi's apprentice learning skills of levitation, mind bending and psycho kinetic energy manipulation.
Having performed all over the world, and with a contract show in Las Vegas, Nicholas now calls Adelaide home after falling in love with South Australia during a holiday. "When my contract in Vegas came up, instead of renewing it, I organised a Visa to Australia. I love it here," Nicholas says. Nicholas is performing at the Adelaide Fringe. His show Amazed - Nicholas Tweedy is the reality bender will be at The Cavern Club from March 9-13.
SA Life - February 2010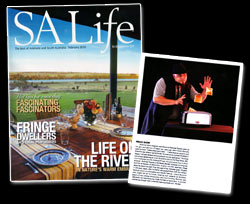 American born magician and illusionist Nicholas Tweedy gave up the glitz and glamour of Vega four years ago when South Australia stole his heart. "I absolutely love it here... I came here on vacation and knew this was where I wanted to be. As soon as my contract finished in Vegas, I refused renewal and processed my visa application." Nicholas now enjoys appearing at iconic SA events such as the Royal Show, AFL club fundraisers and the Adelaide Fringe, this year presenting his show Amazed - Nicholas Tweedy is the Reality Bender.
Nicholas is a long way from his birthplace of Alexandria, Virginia, and the Japanese village where he learnt his craft. From the age of five, Nicholas spent 14 years in Okinawa, Japan, after his father was posted there with the military. Nicholas struck up a friendship with Hiroshi Demura - a local illusionist who taught him all he knows, covering such subjects as levitation, psycho kinetic energy manipulation and mind bending. Nicholas says Adelaide's art community has made him feel at home here. "I just love wandering through town randomly freaking people out", he says.
The Ararat Advertiser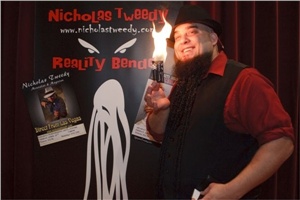 ARARAT - Spellbound, entertained and intrigued would have to be the three words to best describe my emotions following a preview of mentalist and magician Nicholas Tweedy. Tweedy visited Ararat last week in the lead up to his show at the Ararat Performing Arts Centre on April 24 and I was lucky enough to witness the master at work, turning reality on its head and amazing the audience. I went into the preview feeling a little anxious and unsure of what to expect; was this guy going to go into my mind and expose my deepest, darkest secrets to the audience? But I was pleasantly surprised to discover the open and funny Tweedy's show to be truly amazing and entertaining.
The master magician, mentalist and entertainer engaged the audience, surprising his volunteers from the audience while captivating the crowd. Tweedy's charisma lies in the honesty of his illusions; I left the preview, jaw agape, wondering just how he had levitated that card and predicted those numbers. Without giving away the illusions Tweedy will perform on the night, the audience is witness to incredible acts of levitation, mentalism and illusion which will keep them guessing beyond the end of the show. Tweedy has performed in all corners of the globe and has a legion of fans around the world.
Born in Virginia in the USA, Tweedy, the son of a military father, moved to Okinawa, Japan at the age of five. His mother taught English to Japanese teenagers, which opened the doors to Tweedy's path in life. Tweedy said he clearly recalled the first day he met master Japanese mentalist Hiroshi Demura. "I was playing tetris (a computer game), and he came to pick up his two daughters who my mother was teaching English to,'' Tweedy said. When it came time for the girls to go, Tweedy's mother asked Mr Demura to wait until she had found the girls' papers, which were among paperwork on her desk. "I remember he held up his hand and these two papers came flying off the desk, and they were his daughters' papers,'' Tweedy said. After practically begging Mr Demura to teach him, Tweedy was taken under the mentalist's wing as an apprentice, learning everything he could from the master.
Tweedy credits his talents to being very privileged to have learned from a lot of people over the years. With only 30 or so traditional mentalists left in the world, Tweedy's performance may be the last opportunity to witness some truly gifted talents in action. Tweedy said the best part about performing in a smaller community like Ararat, as opposed to a larger city such as Sydney, is that everyone knows everyone. "In a situation like this even if you don't know someone's name, you know their face,'' Tweedy said. "Everyone's connected and I think the show has a greater impact on a connected audience.''
And the best part of following a career as a mentalist and magician?
"Making people smile, that's the real magic of magic,'' Tweedy said.
Nicholas Tweedy will perform at the Ararat Performing Arts Centre on Friday April 24 at 7pm. Tickets are $22.50 for adults and $15 for children aged 15 and under. For bookings, contact APAC on 5352 2181 or visit the centre between 9am and 4.45pm, Monday to Friday.
The Ararat Advertiser

One of the world's last remaining 'mentalists' Nicholas Tweedy will bring his Las Vegas show to Ararat Performing Arts Centre on April 24, performing spell-binding acts of levitation, mentalism and illusion. Mentalism is an ancient performing art in which its practitioners, known as mentalists, use mental acuity, principles of stage magic, hypnosis and/or suggestion to present the illusion of mind-reading, psycho kinesis, precognition, clairvoyance or mind control. Nicholas Tweedy spent most of his childhood in Okinawa, Japan where is father was based in the military. At just age seven, Tweedy befriended a powerful Japanese mentalist named Hiroshi Demura, whom he trained with for 12 years. Tweedy studied everything Hiroshi would teach, from levitations to psycho-kinetic energy manipulation and even a little mind reading.
In his Ararat performance, Tweedy will seamlessly blend far-eastern mysticism and western performance styles into an engaging, eye-popping spectacle that will leave the audience amazed and dumbfounded. Ararat Performing Arts Centre managing director Rod McKenzie said the Centre was very fortunate to secure the high-calibre performance of 'The Mentalist'. "Unlike a magician, Nicholas will challenge the mind through his illusions; blurring the lines between reality and imagination,'' said Mr McKenzie. "Performing in glamorous casinos in Las Vegas to the dark, stone theatres of Transylvania, Nicholas is the 'reality bender' and is sure to entertain even the most die-hard sceptic.'' Mr McKenzie added that local act Chantic - an all-girl singing act which recently wowed the Jailhouse Rock crowds - would warm up the crowd prior to Tweedy's performance.
Tickets are $22.50 per person. To book phone 5352 2880. Nicholas Tweedy will conduct a special preview performance tomorrow at 2.30pm for a lucky few at the Ararat Performing Arts Centre. To secure your spot in the audience, be one of the first 20 people to call 5352 2880.
The Weekly Advertiser

From mesmerising magicians and puppeteers to side-splitting comedy and energetic musicals, the Ararat Performing Arts Centre has a bumper schedule of world-class performances planned for 2009. The year kicks-off with puppeteer Raymond Crowe on March 19. Australia's only 'unusualist', Crowe offers a captivating combination of comedy, ventriloquism, shadow puppetry and magic in every spellbinding performance. APAC Director Rod McKenzie said the public could take a sneak peak of Crowe's performance online at You-Tube or watch ABC TV's Spicks and Specks on February 11. "Raymond Crowe is simply unbelievable. I was blown away by his performance and I can't wait for our local audiences to share the magic of this very special show," he said.
The magic will continue with 'mentalist' Nicholas Tweedy, who will bring his Las Vegas show to Ararat on April 24. His performance includes acts of levitation, mentalism, illusion and much more."We are very fortunate to secure US act Nicholas Tweedy, who, unlike a magician, will challenge the mind through his illusions; blurring the lines between reality and imagination. It's going to be an amazing night," Mr McKenzie said.Other quality performances scheduled for 2009 include Menopause the Musical on April 18, Melbourne Comedy Festival on May 6, Guys and Dolls on May 19 and the dynamic Rhythms of Ireland on July 30, featuring the lead male dancer of Riverdance, David Moore and the lead male dancer of Lord of the Dance, Anthony Street. The stalwart Ararat One Act Play Festival will again showcase the talents of Victoria's amateur thespians from August 1-2. Other un-missable performances include the Three Chinese Tenors on September 4 and 'Wild World' The Cat Stevens Story on September 8.
There will also be plenty of school holiday fun for the kids, with the New Adventure Island show set for June 30 and the Junglebook show on September 27. The year will wrap up with the ever-popular Frankie J Holden and Michelle Pettigrove performing musical favourites at the Senior Citizens Week Concert. Performance inquiries can be directed to Ararat Performing Arts Centre on 5352 2880.
The Adelaide Fix, by Luke Balzan

I would happily regard myself as a sceptic of most of the so-called paranormal stuff that seems to excite popular culture. Despite this I knew I'd be in for a visual treat when I saw Las Vegas native Nicholas Tweedy literally twist the laws of nature that I'm generally quite happy to accept.
This was actually the third time I've managed to witness the infamous Nicholas Tweedy and his incredible feats into the unusual, and I still find myself amazed and thoroughly confused; I'm definitely quite happy to leave my scepticism at the door. And so it was that I saw Nicholas perform on the eerily aesthetic night of Friday the 13th and witnessed some truly mindboggling acts: dead-accurate predictions, levitations and the utterly amazing manipulation of metal and glass objects! This one's so much more than a magic show and I guarantee you'll walk away both smiling in awe and scratching your head with the eternal question: How?
Fringe review, Diana Carroll - Wednesday, 11 March 2009

Nicholas Tweedy is a mentalist, a very special kind of illusionist who plays tricks with your mind. In this show, willing members of the audience took part in almost every trick, adding to the authenticity of his illusions. What's the name of your long-dead favourite pet? Which number did you pick completely at random from the entire telephone directory? Is that your own credit card floating through the air at Tweedy's command? And where has your watch gone?
This is clearly a very skilled illusionist. With no fuss and little fanfare, Tweedy makes the impossible seem real right in front of your eyes. No matter how hard you concentrate, you just cannot see the trickery in these tricks. Whispers of "How did he do that?" and "Oh my God!" followed every illusion.
Interestingly, for a performer billed as "direct from Las Vegas", Tweedy is extremely laid back. In fact, he has almost no patter or showmanship at all. He just strolls on stage, levitates a few credit cards, bends a few forks, reads a few minds, sells a few T-shirts, and comes back the next night to do it all again.
Tweedy got rave reviews for his shows at last year's Fringe which has probably helped him attract a good crowd to this show. At $25 including a decent main meal, The Reality Bender is great fun and good value. But do get there early and sit near the front if you want to experience the full effect of Tweedy's remarkable illusions.
Rani Nugraha, Monday Mar 2nd 2009

Watch your humble Blockbuster Card levitate in front of your very eyes. Marvel as steel is grossly manipulated with nothing more than a light human touch. Revel in the company of one individual, who will leave you wondering if he can control minds, or simply, connect with them.
Set in a cabaret atmosphere at The Cavern Club, the retro inspired decor of wild palettes and psychadelic patterns prove to be an intimate and apt backdrop for the mind bending show, with a curtain separating the show from the Club's main bar. Beware the early advertised start time of Nichols Tweedy is the Reality Bender is an indication of what time dinner can be served, as opposed to the actual start time of Mr Tweedy's antics, which is a comfortable forty-five minutes later. Admittedly, there were some doubts from my end about the expected quality of the here said Reality Bending , as a meal is included as part of your very reasonable ticket price, however I can confidently say there is nothing disappointing about Nicholas' magic or otherwise.
The mentalist and magician has a refreshing sense of approachability and friendliness about him, which is immediately comforting. The absence of any razor sarcasm or ill humour allows the audience (made up of younger and older couples, young families and groups of friends) to feel like there's no chance of being bullied into participation or unknowingly becoming an onstage human whoopee cushion, for cheap gags. His invitations to even the pint size in the audience to participate, allow some insight into his charm, while his genuine intentions to amaze you, all the more concreted by his welcome for any self proclaimed skeptic to participate in his act. And amaze you he will, as jaws drop, and mouths gape room wide in this intriguing performance.
The only niggling point of discomfort came as throngs of the after work set infiltrated the bar, and the noise of Friday night revelry competed with Nicholas' voice, sans microphone. As his explanations and directions are quite important to drawing concentration from the crowd, the venue's background noise became more annoying as the show started climbing towards a more complex level of involvement, but his effortless ability to keep his audience truly engaged is true testament to his professionalism as a performer, and the calibre of his illusions.
Nicholas Tweedy is the Reality Bender is nothing short of an all ages, eye popping spectacle, leaving you to wonder if you're watch is still on your wrist as you leave the venue ... or whether you wore a watch that night at all.
The Advertiser, February 2009


His fluency as a magician is tremendous...as far as stage magicians go, this is the real deal.
The Advertiser, January 2008

Bending cutlery, spontaneously setting cards alight and "mind reading" are all in a day's work for Nicholas Tweedy. Calling himself a reality bender and a mentalist, the American is in Adelaide for a series of shows. And he definitely has a soft spot for our fine city
"I was here in February for a vacation and I like dit so much I stayed for three months - I think it has a really great vibe," he says. Now he's back for a raft of publicity engagements before his first show in January
Being a mentalist has to be one of the world's weirdest jobs, but Nicholas fell into it as a child while living in Japan, where his father was posted in the military and his mother taught English.
"I did a 12-year apprenticeship in Okinawa... when I first saw my teacher levitate some paper, I dropped the computer game I was playing.. and pestered him until he taught me," says Nicholas, who has travelled all over the world with his work. "Some people faint at my shows... but I aspire to inspire. What I'm doing is not real, but anything is possible," he says.
Fringe review, Jo Vabolis - Thursday, 28 February 2008

Early in his show at the Cavern Club (one of Adelaide's most comfortable Fringe venues) Nicholas Tweedy explains that he is a mentalist rather than a magician. By the end of the evening, we were in no doubt that we had seen a performance that soared far beyond the standard set of magic tricks. Tweedy swiftly developed a bond with the audience, drawing us in with a succession of increasingly jaw-dropping demonstrations of levitation, mind-reading and transformation of matter using the power of thought.
Tweedy travels the world, charming everyone from small corporate groups to Las Vegas nightclub audiences with a show that is friendly, funny and truly amazing. We sat down the front and concentrated hard, but he got us every time and by the fork finale the crowd was screaming with disbelief. Unbelievable.
EuroTour 2007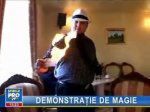 Un magician american uime?te locuitorii din Alba Iulia
Un american venit īn vizit? la socrii s?i din Alba-Iulia a dat ora?ul peste cap. Omul este magician ?i de cāteva zile a īnceput s? dea reprezentan?ii ad-hoc prin cāteva localuri. B?rbatul e capabil s? īndoaie furculi?e, s? ghiceasc? gāndurile ?i aten?ie poate s? provoace orgasm prin puterea min?ii. [video]